Feeling rich isn't about the material things you have or the amount of money your family has; rather, it is about seeing how other children are being helped and cared for, and how you can be a part of this. Tell your child that the feeling he gets by helping others or supporting those who do through donations of money or time is the best way to feel rich.
Many charities and organizations are designed to provide individual attention to children in need. Some of these are listed below. Your child may be interested to learn how they do this and may want to donate money or volunteer time (if he is old enough) at one of them.
Advancement via Individual Determination (AVID) Center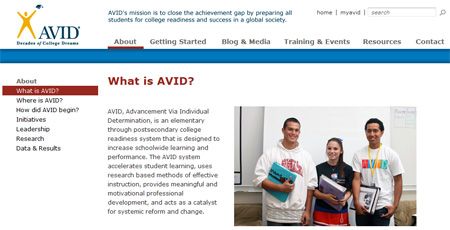 Every child has the opportunity to attend college; however, some children simply cannot make the grades necessary to get into a college. AVID is an educational program designed to help those students who make Cs and Ds improve their grades and, subsequently, their chances of being accepted into college.
For more information, visit www.avidonline.org.
Big Brothers Big Sisters of America (BBSSA)
This is one of the most recognizable organizations in the United States. It provides youth mentors to children between the ages of six and eighteen. This is one of many organizations that strives to provide one-on-one attention, something those children so often need.
For more information about BBSSA, go to www.bbbsa.org.
Canines for Disabled Kids (CDK)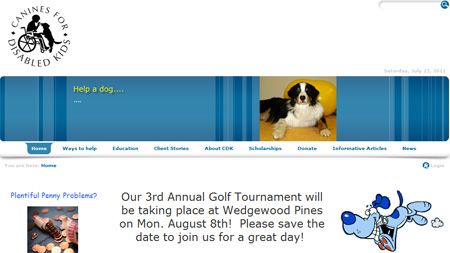 This is a fairly new charity; it was not founded until 1998. This organization provides service dogs to children under the age of 12 who suffer from autism, who are hearing-impaired, or who ar physically disabled. The dogs not only provide the children with the assistance they need in performing daily tasks, but also with companionship. They also teach the children responsibility and build confidence.
Visit www.caninesforkids.org for more information on this unique charity.
Locks of Love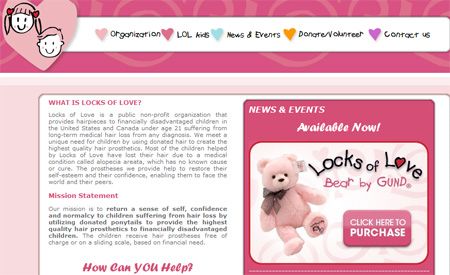 This is one charity that encourages participants to work as a team. One or more members of the team can volunteer to be the one who will grow the amount of hair needed (usually at least 10 inches) to donate to this charity, while others can offer support and encouragement.
It is not unusual to hear of specific girl's organizations or groups, such as a youth group, school club, or other entity, encouraging all members to grow their hair and donate it when it has grown enough. The donated hair is used to make wigs and hairpieces that are given to children who have lost their hair due to medical conditions. The hair is provided free of charge or for a fee that is set based on a family's income.
Go to www.locksoflove.org to learn more about this very special charity.
Encourage your child to get involved with the charity of his choice. Helping others in need will make him feel truly emotionally rich.
Jessy Troy is a new mom and frugal blogger for Broadband Plan Finder, the free tool tool to compare Australian bloadband plans.